CHAOSOPHY 2000
CHAOSOPHY 2000, by Iona Miller, CRP Protocols
A Journey to the Healing Edge where Physics meets Psychology
CHAOSOPHY 2000 - Table of Contents
ASKLEPIA MONOGRAPH SERIES:
Contents

An Integrative View of Normal Adult Development
and the Consciousness Restructuring Process
by Iona Miller and Graywolf Swinney

Counseling Philosophy
and the Consciousness Restructuring Process
by Iona Miller and Graywolf Swinney

About Fibromyalgia (FM) and Consciousness Restructuring
by Rob Kuehn and Graywolf Swinney

Chronic Fatigue Syndromes (CFS)
and the Consciousness Restructuring Process
by Iona Miller and Graywolf Swinney

Multiple Personality Disorder (MPD)
and the Consciousness Restructuring Process
by Iona Miller and Graywolf Swinney

Depressive Disorders/Grief
and the Consciousness Restructuring Process
by Iona Miller and Graywolf Swinney

Post-traumatic Stress Disorder (PTSD)
and the Consciousness Restructuring Process
by Iona Miller and Graywolf Swinney

Bipolar Disorder
and the Consciousness Restructuring Process
by Iona Miller and Graywolf Swinney

Attention-Deficit Disorder (A.D.D./A.D.H.D./O.D.D.)
and the Consciousness Restructuring Process
by Iona Miller and Graywolf Swinney

Psychotherapeutic Treatment of Cancer
and the Consciousness Restructuring Process
by Iona Miller and Graywolf Swinney

Borderline Personality Disorder
and the Consciousness Restructuring Process
by Iona Miller and Graywolf Swinney

Eating Disorders
and the Consciousness Restructuring Process
by Iona Miller and Graywolf Swinney

Psychoactive Substance Abuse Disorders
and the Consciousness Restructuring Process
by Iona Miller and Graywolf Swinney


ComingSoon! Co-Dependence/Dependent Personality Disorder
and the Consciousness Restructuring Process
by Iona Miller and Graywolf Swinney

Autoimmune Disorders (R.A., M.S., Lupus) and the Consciousness Restructuring Process
by Iona Miller and Graywolf Swinney

Stress-Reduction and the Consciousness Restructuring Process
by Iona Miller and Graywolf Swinney

Hypertension and the Consciousness Restructuring Process
by Iona Miller and Graywolf Swinney

Anxiety Disorders and the Consciousness Restructuring Process
by Iona Miller and Graywolf Swinney

Chronic Pain Management and the Consciousness Restructuring Process
by Iona Miller and Graywolf Swinney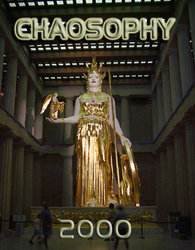 CHAOSOPHY JOURNALS
CHAOSOPHY JOURNAL: A Journal of Chaos, Consciousness, and Philosophy
CHAOSOPHY JOURNALS
CHAOSOPHY 1993
CHAOS AND POSTMODERN PSYCHOTHERAPY


CHAOSOPHY 2000
Protocols - ASKLEPIA MONOGRAPH SERIES


CHAOSOPHY 2001
NEUROPSYCHOLOGY AND QUANTUM METAPHYSICS


CHAOSOPHY 2002
EMPATHY, COMPASSION AND HEALING:
TAO of RESILIENCE
http://tao-of-resilience.iwarp.com
CHAOSOPHY 2003
EMERGENT HEALING PARADIGM
http://emergenthealing.50megs.com
CHAOSOPHY 2004
NONLOCAL MIND PARADIGM
http://biopysics.50megs.com
CHAOSOPHY 2005
SPIRITUAL PHYSICS
http://spiritualphysics.iwarp.com
CHAOSOPHY 2006
PHOTONIC HUMAN
http://photonichuman.50megs.com
CHAOSOPHY 2007: MIND CONTROL
http://mindcontrolfordummies.50megs.com
http://psiona.50megs.com
http://myzeropoint.50megs.com
Our notions about ourselves and the nature of the world (worldview) around us are filtered through our prejudices about "the way things work". We never apprehend reality directly--only our world-simulation which is congealed from the convergence of our sensory input channels and the information-creating processes of chaotic neural activity. The brain filters and creates reality.

Brains are chaotic systems which create internal perceptual patterns that substitute directly for sensory stimuli. These stimuli are evoked potentials or evoked fields--standing waves in the brain. Imagination has the ability to induce real-time changes in the psychophysical being.

Imagination embodies the power of transformation. It may be accessed through obvious imagery, such as dreams, vision, and other sensory analogs, or viewed directly in symptoms, behavior patterns, emotional patterns, mental concepts, and spiritual beliefs.

The imaginal process is our primary experience and it permeates and conditions all facets of human life. During experiential psychotherapy, the sensory-motor cortex system is influenced through imagination. Psyche affects substance at the most fundamental level, through chaotic neural activity.
Creative Consciousness for Beginners: Theory & Practice

Chaos Theory describes the behavior of non-linear dynamic systems, fractal geometry, and the complex, systematic behavior of nature as well as our nature, consciousness and health. It describes in eloquent equations deterministic ordered randomness, dimensionality, reflexive feedback loops, boundary conditions and integration. It is the realm of the irrational, paradoxical, of rich values and structure, self-generative and self-iterating, of self-organizing (autopoietic) emergent creativity, stretched time and folded space, inherent unpredictability, yet boundaried and geometric. The domain of global behavior, open systems, criticality, sensitive dependence, strange attractors, fluctuations, turbulence, perturbations, thresholds, trajectories, bifurcations, phase transitions, temporal density, reiteration, synchronicity, resilience, the "butterfly effect," subquantal chaos (ZPE), dynamic geometrization, probability, relativity, disruption, coherence and stochastic resonance, synergetics and tensegrity, self-reflection, nested cycles, the breakdown of order with sudden transitions, the creative and evolutionary "edge." Chaotic systems are apparently acausal, inherently qualitative, sustained by complex feedback loops, and disproportionately responsive.
Customizing and Personalizing My Site
"Chaosophy" is a natural philosophy emerging from the implications of research in complex dynamic systems. It is a radical re-visioning of our notions about the way things work in the universe. Our notions about the nature of our existence are conditioned by our understanding or comprehension of state-of-the-art scientific awareness as well as cultural and spiritual experience.
Chaos is being investigated in many different phenomena, and is a major influence in developing a new paradigm. Some of the most promising results are coming from consciousness studies and experiential psychotherapy. There are many psychological and philosophical implications to chaos theory which reflect on our apprehension of the nature of our existence. It is helping us create an integrated view of psyche, soul, and nature.
Chaos theory reflects on the age old questions of determinism, stability and change, creativity, free will, and the underlying nature of spacetime. It is well established now that most movements in nature, ranging from the orbits of planets to behavioral adjustments in life, are essentially chaotic.
Behind the Scenes of My Home Page
SPYENTIST: Iona Miller, consultant and transdisciplinarian, is a nonfiction writer for the academic and popular press, hypnotherapist (ACHE) and multimedia artist. Her work is an omnisensory fusion of sacred activism, intelligence reform, science-art, chaos theory, plenum physics, and emergent paradigm shift melding experiential psychotherapy, new physics, biophysics, resonant space, philosophy, cosmology, healing, creativity, qabalah, magick, paranormal, "dirty tricks," media ecology, mind control, paramedia, metaphysics, and culture change.
CHANGE AGENT: Rather than having an interest in specific doctrines, she is interested in the EFFECTS of doctrines from religion, science, psychology, politics and the arts. Our beliefs are the moldable raw material of the psyche, manipulated by governments, media and culture. How do we become what we are and how is that process changing in the near future?
Performance artist and spywhisperer, Ms. Miller is published by Phanes Press, Destiny Books (Inner Traditions), Autonomedia, Nexus Magazine, Dream Network, PM&E, Journal of Nonlocality and Remote Mental Interactions (JNLRMI), Chaosophy Journal, OAK, DNA Monthly, Pop Occulture, Schiffer, Bolero, Science-Art Research Centre, and more. She is a Gaia.com Ambassador and serves on the Board of Medigrace.org nonprofit organization. Recent print articles include Alchemy Journal Vol. 10 No.1, Mar 09 (Australia), Paranoia zine #44, #46, #49, #50 (USA), HunterGatheress Journal, Vol. I and Vol. II, JNLRMI (Russia), Der Golem (Germany), Antibiothis I and III (Portugal), The Art of Fetish (Miami), and Journal of Interdisciplinary Crossroads (India). Her artwork has shown in Miami, Phoenix, New York, in magazines and more. Appearances include "21st Century Radio," "Untamed Dimensions," "Reality Portal," " Digital Long Island," "The Ascending Way," etc.